Time for lunch!
Trellix Corporation has grown, and we now take up two parts of this office building. Development, where my office is, is down on the first floor. (Our CEO Don Bulens' office is next to mine.) We used to have the whole company down here, and the part near the door used to be reception. It's now an open area with some old banners and article reprints hanging. When you go out the door, you go by the men and women's rooms (often used before lunch...), and then turn left to the cafeteria. Today's specials are listed on a board: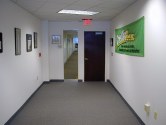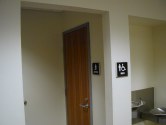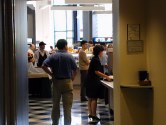 The old Trellix reception area, men's room entrance, lunch specials, cafeteria entrance
We lucked out at this location. The office building complex has a great cafeteria. In addition to the sandwiches, hot meals, and salad bar, there is usually a "specialty salad" or something each day. Today's was a baked potato bar. I made mine with lots of cheese and salsa: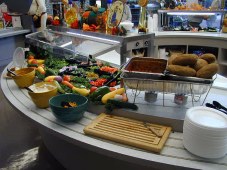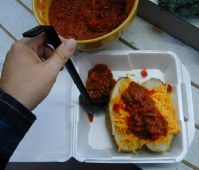 Making lunch
The building is really a few buildings connected together, with the cafeteria at their intersection with a large atrium. Here you can see a view looking back to the condiments table and the cashiers. I go out the back door and then walk around to the back door to our space to eat in one of our small lunch areas. Jeremy of Trellix took the picture as I posed: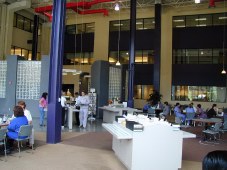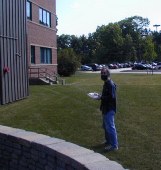 Building's lunch area, me carrying my lunch to our lunchroom
Time to raise the hips and push my back wallet pocket up against the badge readers. This is a view looking down again. You can see a cell phone.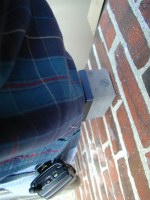 Unlocking the door
I was having a late lunch and only Will was there to share the table with me. In the background you can see the soda case. As in most companies I've started, we provide free drinks. It encourages people to have lunch in house and interact.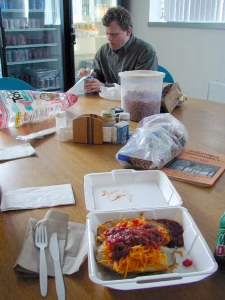 Lunch with Will