6:55 AM. Time to get up! I turned on the light, grabbed the camera, held it over my head, and fired away: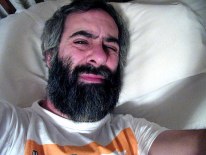 Good morning!
Another mirror shot before brushing my teeth, showering, etc.: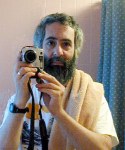 In the bathroom mirror
Breakfast: Tea with honey, toaster waffles (low fat), and three newspapers (New York Times, Boston Globe, Wall Street Journal). Monday's the big day with lots of computer articles.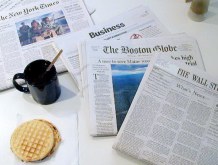 Looking down at breakfast
Get in my car (Honda Accord) and leave for work. You can also see what I see getting on Route 128 (now known as I-95) on my way: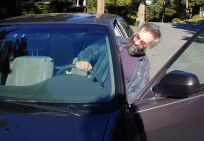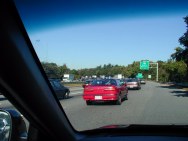 Driving to work
Here's the building in Concord, Massachusetts, where Trellix is located, as seen from the parking lot in the back. I walk over to the back entrance, go in the door, and then into the inner back door to our first floor space.
The third picture is a shot looking down at my back pocket as I raise myself up a bit on my toes and push my wallet pocket near the badge reader. I learned the maneuver over 25 years ago at DEC -- saves time over taking your wallet out and pressing it up against the reader, or needing to carry your badge separately. You can see a pen sticking out of my pocket at the top of the picture and the camera strap hanging down: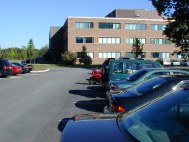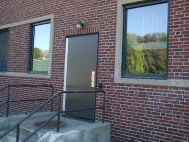 Going in to Trellix Corporation