The early part of Sunday evening went to updating a memorial web site I maintain. People email me remembrances they have of the person who died, eulogies, pictures, etc. I hadn't updated it in about a month and I had just gotten the text of one of the eulogies given at the funeral, so it was time to add the material I'd been holding: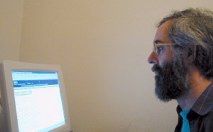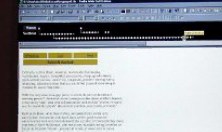 Editing a web site using Trellix Web, and a view of the screen
While washing some of the day's dishes, I watched the Olympics on the little old TV in the kitchen in front of the cookbooks: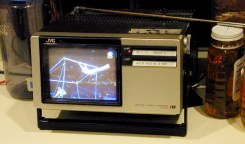 Watching the Olympics while doing the dishes in the kitchen
As it got late, it was time to walk the dog. The picture of me is the only one taken with a flash. The last one of Prince was without flash, and took some lightening with a photo editor to make it visible, but it did come out! (Not shown: The flash picture I took of Prince lifting his leg and doing his thing.)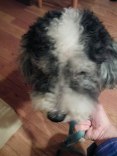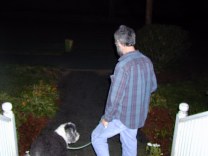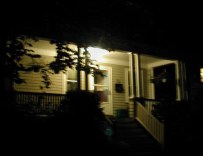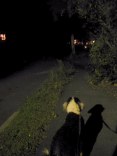 Putting Prince on leash, taking him for a walk, looking back at the house, on the walk
Then, back home to watch some more of the Olympics. Notice the old 15" Sony Trinitron. (I usually don't watch much TV.)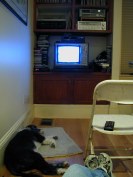 Watching TV, Prince sleeping
Time for bed. Here's a mirror shot of me brushing my teeth. The camera is an Olympus C-2000 Z that I've been using for the last year (2.1 megapixel, f2.0, 3x optical zoom lens). It belongs to my company, Trellix Corporation. Here's also a picture of me taking a dose of my hayfever medicine. I'm wearing a nice T-shirt as a PJ top. It's hard to hold a camera in one hand and spray with the other...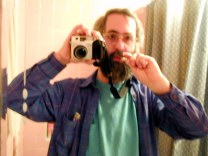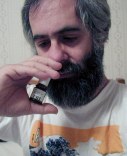 Brushing teeth and taking medicine
Time to turn out the lights. 11:40 PM tonight, nice and early... Good night! (I couldn't hold the camera very level. Sorry. Also, I don't seem to smile when taking pictures this way.)
Lying in bed