Monday morning, after I posted this log, I ran downstairs to take a cab over to the Convention Center to join one of the Key3Media "VIP" tours that they offered us at dinner Sunday night. In order to read my mail and get the site up I missed having time for breakfast. I hoped they would have some at the keynote speech I was hoping to come in on the end of.
When I got downstairs I found a moderately long cab line. The doorman called out that anybody who wanted to share a limo to the Convention Center could walk over to the right -- it'd only be $4 each. Sounded good -- less than a cab. We got to the Convention Center pretty fast, but they make the limos go all around to different places before they can let you out, and there was lots of traffic that way. By the time I got out I could have walked the mile or so distance from my hotel.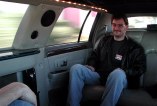 My fellow passengers inside the $4 limo ride, the view outside

I ran around looking for the room where the keynote was being given. Even this early before things opened there were lots of people around.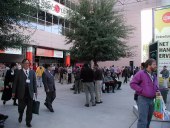 Walking around outside

I found the group, but the keynote was over and there was no food, just some water. The idea behind these tour is to show you things about how they have made the show (Comdex) more relevant and profitable. Most of the people on the tour were investors or represented such people. We walked together with a "tour guide" from Key3Media (the parent company of Comdex). She got us into the exhibit area even though the show hadn't opened yet. We went by a booth with cookies as the giveaway -- the beginning of my breakfast:

Booth with cookies: Yum!

Every couple of minutes we'd stop and hear something about the show. For example, how they broke it up into various areas, so companies could be in an area dedicated to something like wireless. This made visiting things at the show much easier. Also, knowing that most of the attendees were of certain backgrounds, they also started trying to attract exhibitor/sponsors who wanted to market to such people. So Mercedes had lots of promotional stuff. This is just like all the other industries: trying to find ways to get more merchandising in, just like the airport, dotComs, and everything. Sounds right.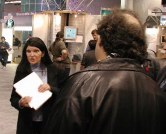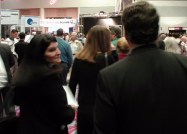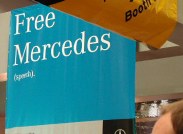 Listening and walking with our tour guide, marketing to the upscale attendees

As we walked into one area we passed a vendor setting up. I stopped and got more "breakfast". I had to run to catch up, but it was worth it:

The second half of milk and cookies (the milk)

We passed by interesting product designs. We passed by the media center. Apparently a larger number of press attend Comdex than the Super Bowl.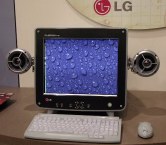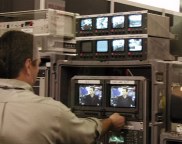 A cool PC, video feeds from the media center

Soon the tour was over. I had a better background about how Comdex was doing things. Time to be in the main crowd that was coming in: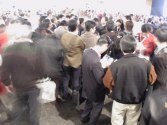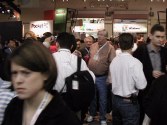 The crowds

All over the place there were what looked like phone booths with wires coming into them. These were part of a showcase "metropolitan network" set up by EDS and Key3Media. They used lots of volunteers from sponsoring companies to provide lots of bandwidth and connectivity to all the booths, doing streaming media demos, and more.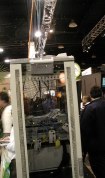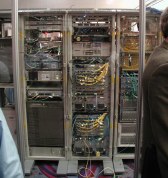 One of many, many local network boxes, and part of the main command center

In the middle of the Microsoft partner pavilion I saw Research In Motion, the people who make the RIM Blackberry wireless email/etc. machine. (Trellix used to be featured in the pavilion in earlier years, so I have a warm spot in my heart for it.) The RIM is one of the hottest things in the wireless business and here they were buried away. Well, actually, their stuff was shown in lots of other booths by partners, but it does point out that some of the most important players aren't always the biggest.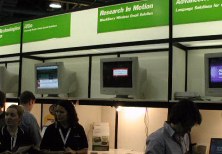 RIM people in the Microsoft partner pavilion

I went out into the main area of this part of the show. Here's what you see. As those of you who have been at Comdex know, this is a tiny part of the exhibits. This year Comdex has over 1 million square feet of exhibits. It's, according to a cab driver, the biggest show in Las Vegas.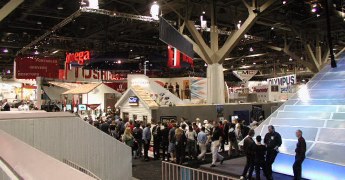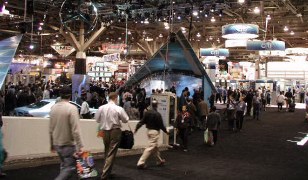 View out towards some exhibits in the South Hall

I passed by another Mercedes being shown off: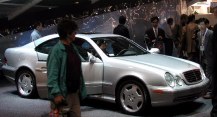 Car merchandising

Booths use different methods for attracting attention. Some use people in costumes: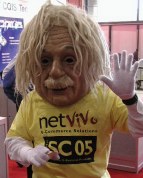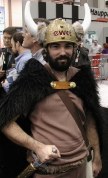 People in costumes

I went to the Bluetooth Pavilion, one of the special areas. Lots of companies had little booths. Most showed prototypes of wireless products that may come to market. It's not here yet. Nothing really production in most booths.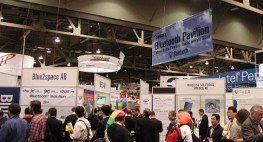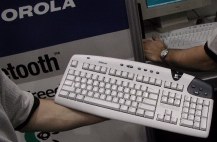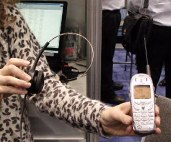 Bluetooth Pavilion, prototype wireless Logitech keyboard, Motorola wireless headset prototype (it takes an engineer to configure it, it seemed)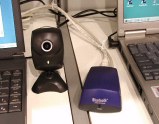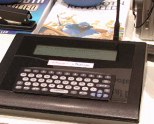 More Bluetooth prototypes: devices to connect PCs, chatting machines, handheld to printer adapters, a Springboard module for the Handspring Visor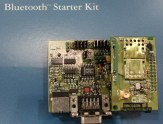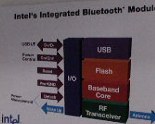 Yet more Bluetooth: Intel chip development kits, a Bluetooth to LAN device

I passed by the Gateway booth. An actual PC company! You didn't see much emphasis on PCs at all at this show. Just things to connect to them, wireless, handhelds, wireless, devices to connect to handhelds, wireless, and things with interesting designs (and more wireless).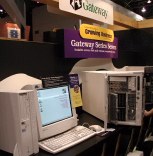 The Gateway booth

I got lunch early. Fresh pizza. Very good.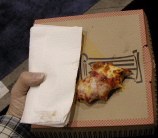 Lunch

Wireless in the Palm booth. Projection TVs in another one. Very bright ones. And handhelds, this time the Visor.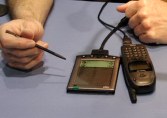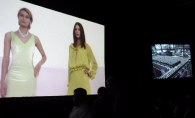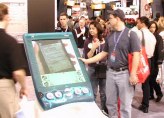 Wireless Palm, 7000 lumen projection TV, huge Visor model

Qbe was back from last year with a new version of their tablet. (Microsoft is bringing back interest in tablet computers, so maybe they'll benefit...) It has a camera, CD drive, and more, and runs Windows: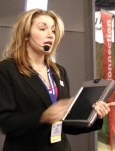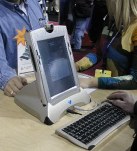 Qbe tablet handheld, in cradle, and aiming at me

Boeing (the airplane people) had a mockup of the inside of a plane with their Connexion "Internet in the sky" system. Connectivity is part of everything here it seems.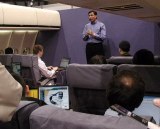 Boeing showing browsing in the sky

Lexar had a display of how you can sell their "digital film", which is their branded Compact Flash, Smart Media, Memory Stick, etc., cards for digital cameras: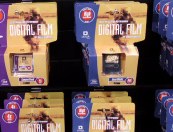 "Digital Film" boxes of flash memory

I went by the Ask Jeeves booth, but I didn't stop in:

Ask Jeeves sign high above us

Linksys was showing their home networking system using the 802.11b protocol. While much of the wireless stuff, like Bluetooth, was prototype, it was clear from this show that "eight oh two eleven" is here and accepted. (That's the technology that was used at PC Forum and Agenda to give us all wireless Internet connections.) They also showed stuff like a router/DSL/cable modem/20GB disk/print server. Just boxes you can buy off the shelf to hook into your LAN.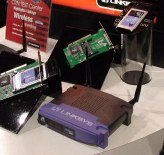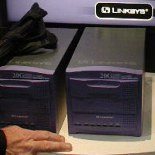 Linksys stuff

A character for a children's software company: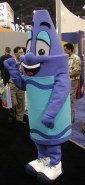 More costumes

Another pavilion: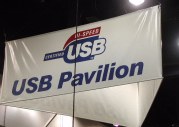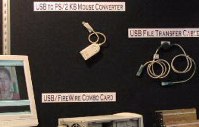 USB stuff

A head mounted display: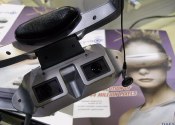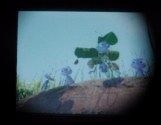 Head mounted display and what you see (sort of -- it actually looked much better)

There may be well over 100,000 people, but I always run into some of the same people anyway. Here's Sheldon Laube of Centerbeam and Nancy Engles, as usual (if you've been following my journals). I just ran into them in the aisles. Sheldon tells me that 802.11 makes it possible for Centerbeam to install PCs and stuff at companies easily without needing to run wires, which makes possible his service business which lets you outsource your IT stuff. Never thought of that problem that way.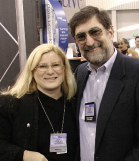 Nancy and Sheldon

Time to go over to the MGM Grand to get ready for the panel that I had to lead. I walked outside, past the people giving out invitations to the seedier things in Las Vegas.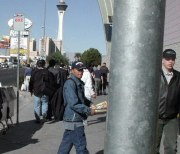 Guy handing out "literature" on the street

That's it for Monday morning.