It was after 1 pm Monday, and I promised my panelists that I'd meet them in the Speakers Lounge by 1:45, an hour before the start of the session. I walked past the cab lines. Way too long.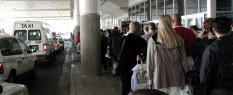 Long cab lines

Instead, I waited for a bus. One came right away and then filled up quickly and drove over. This worked out well -- I was on time.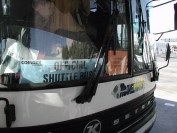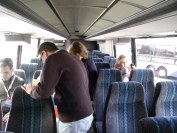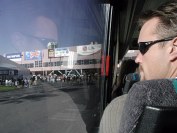 Getting on the bus, driving past the cab line

We drove past my hotel. I stayed in the tower on the right: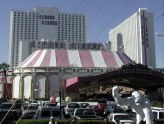 Circus Circus

At the MGM Grand Convention Center, I met up with the head of our part of the conference, Daniel Dern. Daniel is an old friend from back in my MIT undergraduate days. He's been doing Internet stuff for years (he still uses lots of the character-based tools) and even wrote an early intro book I used to learn about things. He also lives near where I live outside Boston, and works for Byte.com.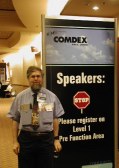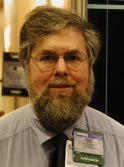 Daniel Dern

I met with my panel members and went over what we were going to cover. I also ran into an old friend from the earlier days of the PC world, Pete Peterson. He'd been the most visible person to the outside at WordPerfect in their glory years and was on the board of the Software Publishers Association with me way back in the late 1980s as I recall. He's a real sweet guy.

Pete Peterson

We went into the session room for our panel on Browser-based Applications. It was Steve Guttman of Alphabox (but originally of Halfbrain and Adobe before that) and Parag Patel of Bowstreet and me. Here's the audience before everybody trickled in and a poor picture looking back at the panel: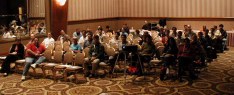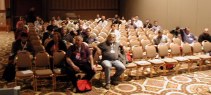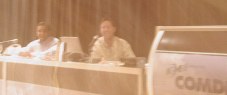 Comdex conference session

The panel session went well. Afterwards I went to the Speakers lounge to check my mail and stuff. Then I took a cab over to the dinner before the CRN Hall of Fame award event and made some telephone calls.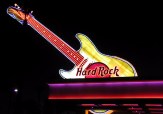 Front of hotel and one of the artifacts (I was at Woodstock in 1969)

One of the inductees was Gordon Bell of DEC (now of Microsoft) for creating the VAX. I used to work at DEC and remember attending one of the VAX design meetings. Gordon was a legend even then. He was with his wife Gwen with whom I spent a lot of time when she headed the Computer Museum. A major couple in the computer industry. (And nice people, too.)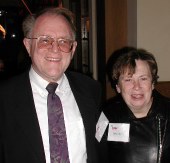 Gordon and Gwen Bell

At dinner I sat at a table with one of the other inductees, Jack Goeken, who did the original MCI, helping break up AT&T and more. During dinner, Rita Rudner, who was to be the entertainment later, came over to say hi. (They brought her around to each table for a few seconds.) Unfortunately, I didn't get to stay to hear her do her act because I wanted to also attend the PC Magazine Technical Excellence Awards. Party hopping, what a drag.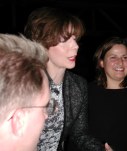 MCI's Jack Goeken, Rita Rudner

My friend Bob Frankston came over from his hotel and picked me up (he rented a car). We drove over to the Rio Hotel for the PC Mag party. The awards were in progress. I had heard that the Stowaway keyboard (that I've been writing about) was up for an award. Soon after I got there, they won the award for best design. Also, Shawn Fanning of Napster won Person of the Year (he only attended on video), and Jeff Hawkins of Palm and Handspring fame won a Lifetime Achievement award (which Bob and I won several years back).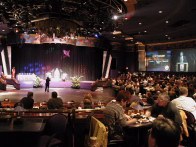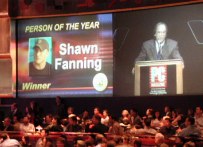 A view of the room, Bob Olodort getting Tech Excellence Award for Stowaway keyboard, Shawn Fanning on tape

Bob and I also ran into John Dvorak, and I got to pose with some of the people: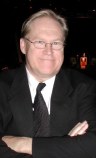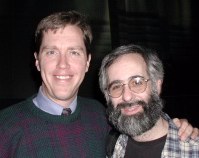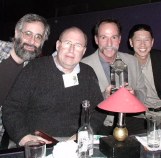 John Dvorak, posing with Jeff of Handspring and other winners

Karen Thomas, of Thomas PR, a staple at Comdex for as long as I can remember (and the creator of the main list of parties), took a picture of Bob and me with the new Olympus / Polaroid digital camera that also makes Polaroid instant prints.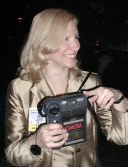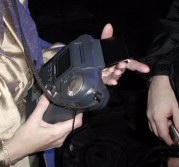 Karen Thomas takes our picture with a digital/printing camera

I had one last party, the eWeek (previously PCWeek) Spencer party. I went for old times' sake. Bob Frankston drove me over but decided not to attend. It was back at the emerald-green MGM Grand. I set the Hertz Never-lost GPS system in Bob's car incorrectly, and it kept trying to take us to the MGM Grand in California. Oops! At least Bob knew the right way. Inside I walked past the casino towards Studio 54 where the party was due to start in about 45 minutes or so. Time to kill.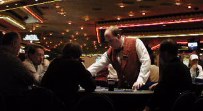 MGM Grand with McAfee sign on the side, blackjack table

The MGM symbol is the lion. They have a section near where I was going called Lion Habitat. It's a large, glass enclosed cage where they keep lions. (They exercise them outdoors several miles away.) The lions are quite tame, apparently, and the trainers walk around inside. The lions were sleeping on a bridge over the pedestrian tunnel. What an incredible view!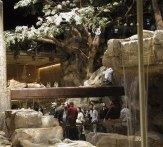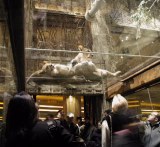 MGM Grand's Lion Habitat

Here are some pictures I took looking up from underneath. If you use a flash you get "yellow-eye", just like house cats. (Luckily, digital cameras let you check the pictures right after you take them for critiques.) The scratches and smudges are on the glass.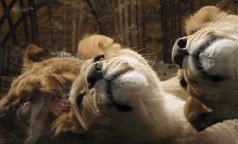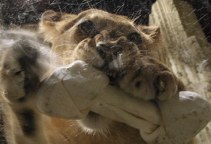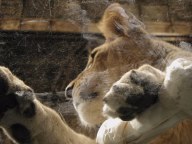 Looking up at the lions

Sitting around waiting. This time the giveaway car was a PT Cruiser. There were ads for the main entertainer at the MGM Grand, the same person I missed at the Hard Rock private award ceremony.

I got to talk a bit with Patty Stanton from Techtv News (I've been on their
Big Thinkers
and
Silicon Spin
shows) about Techtv.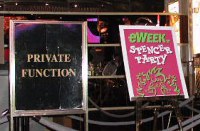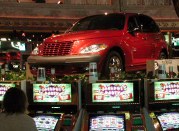 Waiting to get in, the car goes round and round, a poster, Techtv people

I finally got to go in. I saw a few old friends, but didn't spend much time. It was dark, loud, and they didn't allow you to take pictures with your camera. They were, though, taking pictures themselves and gave you a Polaroid of you and Spencer Katt.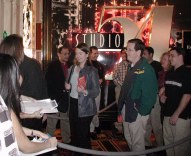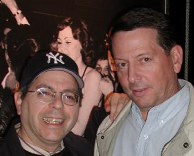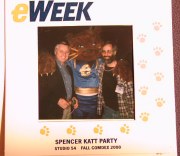 Spencer party pictures

It was late, time to get home. I walked back to take a cab and passed the lions who looked tired, too.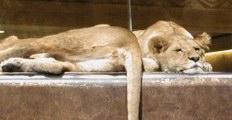 Let's call it a day

No time to do web site making when I got back to the hotel room. That would have to wait a day. (I got to write most of this part Tuesday night.)