This journal will start out somewhat verbose, since I have time on the airplane. If things go as usual, it will eventually digress into mainly pictures with much less explanation. I try to do these journals as the event unfolds or very soon thereafter while the memories and enthusiasm are fresh. That's the way most people will be when chronicling the events of their lives, and I try to be as much like a "normal" person as possible to learn how to build products for them. My company, Trellix Corporation, does products for, among other things, just this type of application.
Since I know that relatives like my parents and close friends read this journal, I'll have lots more of the mundane stuff and pictures of me. I'll try to add some observations that relate to the high-tech world to go with them sometimes.
The trip started Sunday morning, November 12, 2000. The first leg of the trip was a 10:25 am flight from Boston to Denver. Waiting at the gate to get on, I ran into Rajat Bhargava. I first met him in 1996. Brad Feld, an early supporter of Trellix, was the 30-year old "adult supervision" at an MIT-spinoff startup called NetGenesis. Raj, a recent graduate and a Web veteran even in those days (first sports site and first web crawler), was a founder. Raj and I periodically meet in airports, much more than most any other place. Raj waited for a first-class upgrade and got one. I walked up to take these pictures:

Raj in his seat, shyly holding Forbes with his picture

The movie on the plane was A Perfect Storm. I had to work on my panel presentation, so I didn't watch it. The guy at the end of my row would tell his traveling companion (who was reading) when to look at the "good" scenes, so I looked up a bit. With all the pictures of ships being battered by a storm with the crew fighting an incredible battle to stay alive, the idea of a storm seemed the perfect metaphor for this year's Comdex with respect to the dotComs. Here's a shot from the end, looking up at the screen from my seat:
In-flight movie

As we approached Denver, you could see snow on the ground. Walking and running through the leaves back in Massachusetts, I wasn't mentally prepared to see this yet: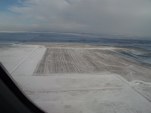 View of snow from the air and the ground

The dotComs aren't the only businesses looking for ways to find more opportunities to get your money. Airports have become shopping malls. Along with the big atriums and art, and the old fast food, they've added multilevel shopping malls. This is great planning. As I pointed out in my "
What will people pay for?
" essay, people who are traveling like to spend time and money getting things for friends and loved ones to show them that they thought of them. It's part of the way we interact socially. What better place than at an airport where you have otherwise completely wasted, perhaps unplanned, time and you're traveling. Also, why have fast standard food when you can have fast fancy food: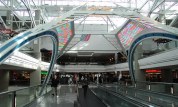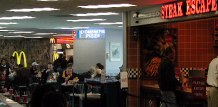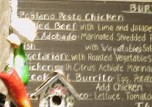 Atrium in Denver airport, fast food, brick oven pizza, fancy Mexican food

One of the stores was Thomas D. Mangelsen's Images of Nature. Drop dead gorgeous pictures of nature scenes. I was interested in seeing what they had, but didn't have enough time to browse. I went up to the store person and asked if they had a web site. He handed me a catalog and said the address was on it (
www.mangelsen.com
). As I stood there, another person walked up and asked him the same thing. I asked him how many people asked for a web site. He said 20%. Store, catalog, and web site, all different channels ready to take your money (and sell you something you hopefully want) whatever way is best for you.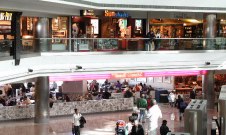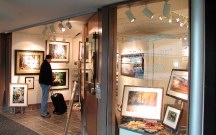 The two story "mall", picture store, pretzel store where I got a snack

After that quick run through the mall (mainly to take pictures of sights that were new to me and shown here), I got my pretzel and headed for my gate. Along the way, I found several people doing what I often do: camping out with their laptop near one of the few electrical outlets:


Laptops on borrowed A/C

At the gate for the shuttle flight to Las Vegas and Comdex, there was something new to me this year. InfoWorld had a person there handing out copies. I was used to people in the Las Vegas airport handing out things, but this was an hour and a half flight away. Good idea. It gave people something to read. Lots of people were. I even found an article on the back page by Jessica Davis about catalog retailers using the web and web retailers like Amazon using catalogs. She wrote: "Consumers will spend more with you if you offer them more than one channel." After just having taken pictures of the store to make the same point I thought this was a wonderful thing -- you could read
her article
and find out even more.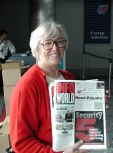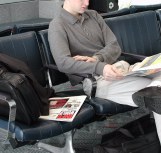 Giving out copies of InfoWorld in Denver

On to the second and last leg of the flight. As you sit on the plane, you look for familiar faces. None this time.

Watching people board

I asked a flight attendant to take my picture. Here's what she took: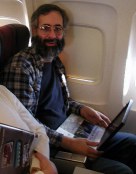 Me on the plane

The woman next to me was flying from the East Coast taking her mother on a trip to Las Vegas and also to Los Angeles to watch the taping of a TV program. I explained to her about Comdex and why, if they had to choose a day to be out of town and they didn't like crowds, Monday was the day to be away.
After we landed, I played a quarter in a slot machine (I lost -- big surprise):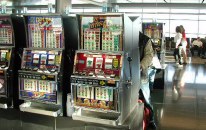 First slot machine I used and the row of slots that greet you when you get off the plane

(I'm off the plane, so the prose gets much shorter...) View from the airport of Las Vegas:


Airport looking out to the Strip and beyond

Here's a group from overseas following a woman with a "Softbank" sign: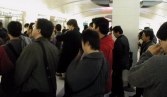 Tour guide, waiting for the train to the main terminal, one person in a cool red jumpsuit and backpack

At the baggage claim, two guys dressed up to promote Ask Jeeves:

Handing out promotional material

Waiting in line for a taxi (just a little while) there was a large screen TV with ads. For my young readers who like limos, here's a nice new one: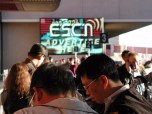 Waiting in line, a limo I didn't take

In the taxi you could see the hotels on the Strip: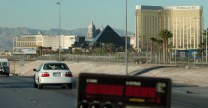 Through the taxi windshield

I checked in to the Circus-Circus hotel. I like this hotel because it's not too expensive, and it's the place lots of regular people stay. Much more down-to-earth than the fantasy extravaganzas.

Check-in

Finally, I went up to my room and got ready to go over to the Gates keynote coming up soon.