The last thing I planned to do at Comdex was attend the 1999 Micrografx Chili for Children event. This is a fundraiser that is the single largest source of private funding for the National Center for Missing & Exploited Children (NCMEC: www.missingkids.com), a non-profit organization dedicated to locating and recovering missing children in the United States.

The Chili Cookoff is a big party where sponsor organizations serve chili made to their recipes, there is entertainment, and people get to mingle. Tickets cost $50 each. The event has raised over $3.5 million over the decade it has been going on. It was founded and organized for those years by Micrografx, Inc.

I took a cab from the hotel. Here's the cab line:





We drove over to the MGM Grand Conference center: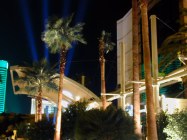 Here's the logo from a sign inside:





The Southwestern US motif included straw hats that were given out:




This event used to be at the UNLV Mack Center, an indoor sports stadium where you walked around in the hallway surrounding the arena as well as sat in the seats or stood on the floor. Starting last year it is being held in the big room of this conference center instead. This is one corner: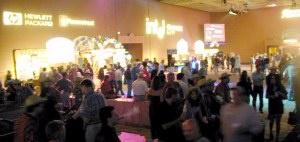 Walking around you run into people. Here are Sheldon Laube and Nancy Engel again as well as Bill Howard and Michael Miller of PC Magazine: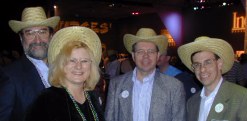 Here Eric Lundquist and John Dodge of PC Week dish out their "PC Week Zippin' Chili":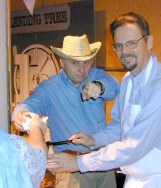 Gary Beach of CIO Magazine shows how the professional chefs package the chili made to his "C-hil-I-O" recipe as he slits open the plastic bag of hot chili: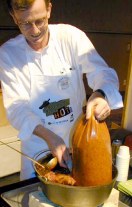 One of the entertainment things were artists who would draw a picture of you. This is my view, with the onlookers nodding knowingly (I didn't know if that was good or bad):





I gave my camera to Nancy Engel who walked by. Here you can see me and the caricature (the artist is F. Andrew Taylor in Las Vegas, and he gave me permission to use it):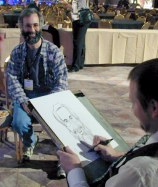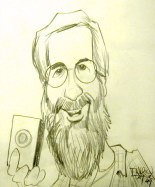 There was also some memorabilia sale or something. Here's a basketball signed by Larry Bird:





I ran into other friends: Scott Cutler of Compaq and Bruce Fredrickson of Tactical Marketing Ventures. I see the two of them at various conferences a lot. (Scott was a classmate of mine as an undergraduate at MIT and we took gym together.)






Finally it was time for one of the main events: The armadillo races. A raceway was set up and people stood around. Major donors got the honor of racing. You pick an armadillo and hold it at the starting line: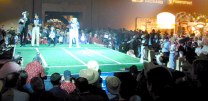 This is an armadillo. Note the hair in the close-up: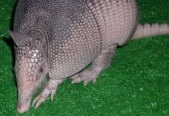 When the race starts you hope your armadillo runs in the right direction and fastest. You are not allowed to touch them to make them go. (No whipping like with horses.) You can only blow on their tails: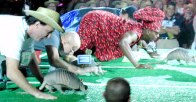 There were four races and then a run-off. Warren McFadden of Computer Associates won, beating out Shawn McMichael of Microsoft in the finals: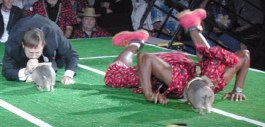 John Walsh is co-founder of the NCMEC. He's also the host of the "America's Most Wanted" TV show. They were taping part of an episode. Here's the warning sign: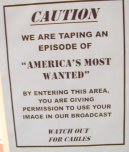 They kept swinging a camera on a boom around and sometimes John would come up and speak. People stood around and watched: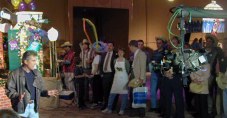 Next was the passing of the torch ceremony. Jim McDonnell and Hewlett-Packard were taking over from Paul Grayson and Micrografx. Actually, they passed a big chili bowl. This will move the "...leadership of the Foundation and its annual event to a company that can provide maximum exposure and fund-raising capabilities for the NCMEC."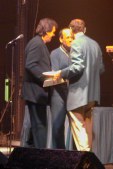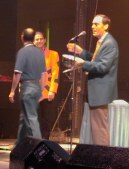 Then John Walsh spoke, but briefly compared to years past. He related the story of the child abducted almost at birth and found years later thanks to NCMEC's computerized help (and a birthmark).





Finally, there was the concert. There is usually a concert as part of the event. The entertainment this time was The Commodores. Lionel Richie left the band in 1982, but, they write, despite starting in the 1970's they won their first Grammy in 1986 (for "Night Shift").

The show started with fireworks:





Here's some scenes with Clyde, WAK, and J.D. doing their thing. Being in a private party like this you can get real close (especially if someone helps you get a VIP armband...). You see how hard they work. Notice the sweat on J.D.'s face: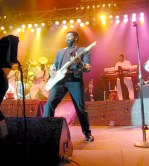 Some of the people were real devoted fans and really got off on the music. The VIP area in the front (actually, Patron area is more like it) wasn't very crowded, so those that wanted to climbed in after a while. We all love watching people really enjoy themselves, and these people really did.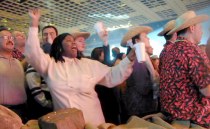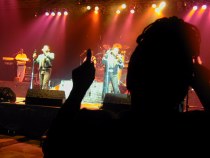 I had a 6:40 AM flight the next morning, so I left after a while. Time to try to get some sleep. I think I averaged 4 1/2 hours a night the whole time I was there.

Next Page >