I showed up at the show well after it started, having been up late the night before posting the last few pages, getting breakfast at the hotel, etc. I took a cab to the Las Vegas Convention Center location (Comdex has more than one large location, but this one had Trellix's meeting room) and walked to the entrance: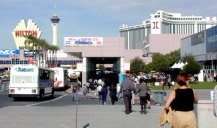 As usual, there were people handing out things in costumes. Here's two people dressed as flies giving out fly swatters with a message from Flyswat.com:





Here's another costume. Never found out what for:





The lines to registration were very, very long. Here's where I just walked in the night before:





This is the line leading up to it (this is viewed from the other side, and the far left is where they turn left into the building:





Turning around, the line continues and then snakes around a lot more:





When I got in, I bought a ticket to the Chili for Children event Tuesday night, an event I was once on the advisory board of, and a good cause. Then I went into the booth area. As I wandered around the Microsoft booth, I ran into Heidi Roizen whom I shared a boardship with at SPA and a person I've known for years. She's now a venture capitalist at Softbank Venture Capital. As I went to take her picture, she pulled over the person she was traveling the show floor with and an investor in their fund, Francis Ford Coppola, the famous director: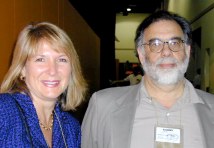 I followed them into a side room where Francis was given a demo of some DVD technology. I talked with Heidi on the side a bit, and then showed her the keyboard thing. Francis noticed it out of the corner of his eye and came over, so we found a flat spot for him to try it. He has large hands, and the keyboard worked well for him. Neat toys are always such an icebreaker...





Saying goodbye, I waded into the crowd: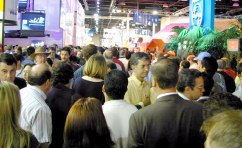 I followed some TV cameras and they stopped at the side of the Philips booth where Rock 'n' Ride was being shown. This is a special chair with compressed air pistons that lets you twist and turn while playing video games on your plain old PC (it connects to the serial port and acts as the joystick or something). About $1,300 -- the price of a treadmill. A long line, I never got to try it.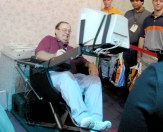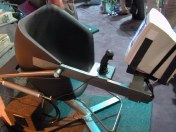 After checking in at our meeting room, I walked some more. I took up Gary Kaye's invitation from the night before and went to the CNN booth overlooking the show floor right in the middle where Lotus used to be. They had a whole newsroom doing continual reports, interviews and more. Here you see some of the newsroom, the stage, and a person editing an interview with Michael Cowpland of Corel (a Trellix partner).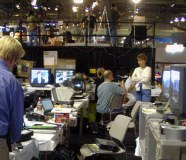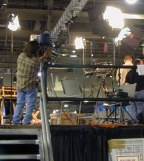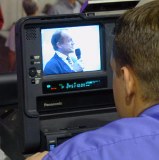 I ran into Chip Lacy, now of Computers 4Sure.com. Like most everybody else who doesn't have one, he was wondering which digital camera to get, especially given that he likes to take pictures of fish he catches on his boat. I told him I'd send him a link to Digital Photography Review that has lots of info and links.





Lots of entertainment in booths. Here's a dancer in the Olympus booth:





Here's Bill Machrone of Ziff-Davis and Bill's Best:






I dropped by the ZDTV booth to check it out before my appearance Tuesday on Silicon Spin. I ran into Michael Dell getting outfitted for an interview: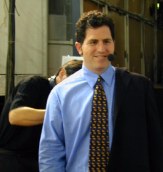 Here he is being interviewed: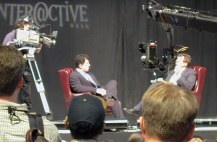 Here's the crowd waiting for the "applause" light to go on: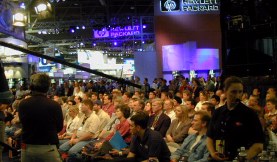 Here's the control room. As I watched he said "And Dan Bricklin is looking in taking a picture, now let's go to our show" or something like that: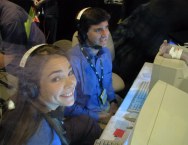 Here are the Viewsonic birds. I usually get photographed with them on the floor and take a Polaroid home. Not this time.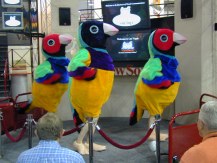 I hooked up with Bob Frankston and walked the floor some more. We ran into Janet Baker of Dragon, another Boston-area person. We talked about speech recognition vs. handwriting recognition.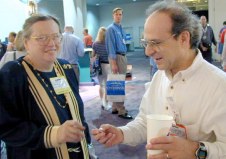 I ran into an old friend, Egil Juliussen, now of eTForecasts.





I also ran into an old friend from college days at MIT, Dan Dern, now with Byte.com: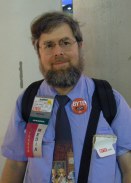 Dan took a picture of me and Bob:





I guess handing things out worked. I stopped by the booth from the company that first handed me something at the airport, Qbe. They have a large (and I mean large) tablet. Notice the CD drive open on the right:





Time to go back and unload the pictures onto the laptop back at the hotel and get ready for tonight. I went outside. There were blimps and stuff in the air with ads: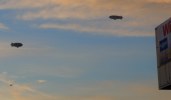 And the people dressed as flies were still handing stuff out. Comdex is hard.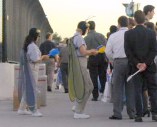 Next Page >