I went to the Computer Reseller News Hall of Fame event. I was inducted last year and this year I was there to help induct one of the honorees, Ray Ozzie of Notes fame. The event was at the Hard Rock Hotel. They have lots of music memorabilia. Here's the guitar Eric Clapton used to play "Tears in heaven":





They had a pre-event dinner. I sat at a table with, among others, Ray and Philippe Kahn, another inductee, and Barb Darrow of CRN. Here's Philippe (it was dark) and Barb: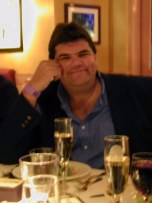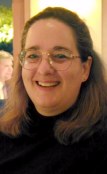 Ray, his wife, and Bob Frankston. Notice the chocolate boxes of chocolate from Merisel: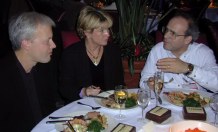 Here's Charles Geschke of Adobe, another inductee:




Gwen Bell of the Computer Museum History Center looking well:





Dinner done, we went to the main hall, where we found Steve Ballmer of Microsoft, a past inductee. Philippe said hi: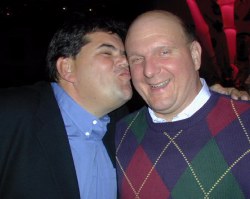 I was backstage for the event. They showed me where to stand and walk. There were arrows and marks all over the stage:





Here's the view of Donna Dubinsky (first female inductee) and Ed Colligan of Handspring getting their award (Jeff Hawkins couldn't make it) as I saw it from backstage: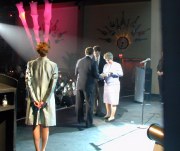 When I joined Heather Clancy, CRN Editor, to give Ray his award, I took some pictures (they told me I could act natural and do it so they got what they asked for...). Here she is laughing at me standing back and zooming in: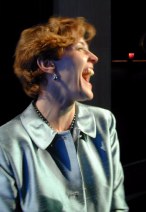 Here's the presenter's-eye-view of the audience: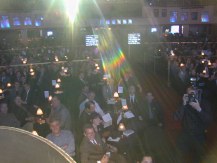 After giving Ray his, I got to sit in the audience. Here's Bill Joy of Sun getting his award from Elliot Markowitz, Senior Executive Editor of CRN: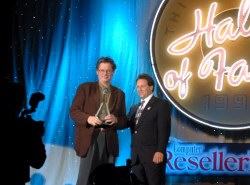 Entertainment was comedian Ray Romano: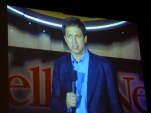 Afterward, more schmoozing. Here's Ray and Sheldon Laube, now of CenterBeam, but also known as the first major purchaser of Lotus Notes, and husband of Nancy Engel (the photographer/psychiatrist):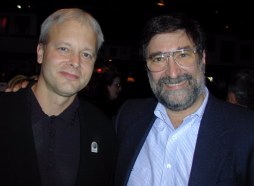 Here's Bob, Donna Dubinsky (ex of Palm, now Handspring), and me. VisiCalc got her a start with PCs she told us, so she wanted this picture: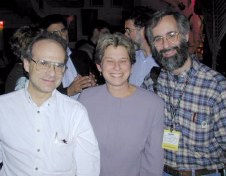 Then there was the CRN Shadow Ram party. We ran into Bobby Orbach, known in the old days for computers at 47th Street Camera, now a consultant at Orbach Inc.





CRN done, now it was time for Bob and me to drive in his rental car over to the MGM Grand's Studio 54 for the PCWeek Spencer party. Here are some pictures. It was very dark inside and they heavily discouraged taking pictures. There were professional dancers and a heavy beat of loud music. Lots of people. Many dancing.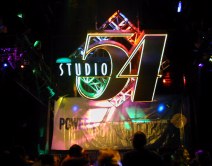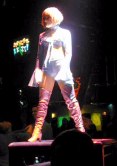 Here's the view from on top: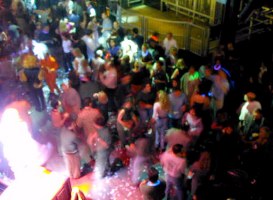 As usual, Bill Gates showed up. Poor lighting, so all I got was this poor shot before they whisked him off to go down and dance (another tradition). I got to talking with some members of the press and the main thing they wanted to know was my opinion of his dancing. What could I say? Despite being from Philadelphia, home of Dick Clark's Bandstand in the 1950's, other than folk dancing (which I like) popular dancing isn't exactly my strong point (though I've been working on Swing recently). I mumbled something about compared to the rest of us geeks he does OK, especially given that everybody is watching him carefully waiting for him to mess up and trying to feel superior to him in something. (Tough job, I don't envy him.) In private he's a very fun-loving person, as far as I know, though I wouldn't give specifics...

[Sure enough, of all the press I talked to at Comdex, this one conversation, where I tried to be polite to reporters who wanted very much to get a quote on a particular topic, ended up in the Washington Post and even Ditherati that week.]





More of the dance floor: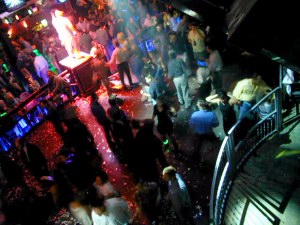 That's it for today! Off to bed. (I put this together the next morning.)

Next Page >