I got up quite early to make the 6:40 AM flight. I wanted to get back to Massachusetts in time for an important meeting in the evening. The hotel was just waking up when I left at 5:30 AM: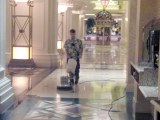 On the way to the gate at the airport, there were slot machines, of course. Here's "QuarterMania":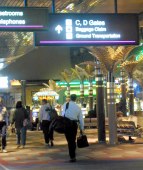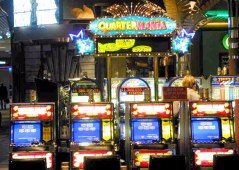 For those of you who haven't ever played the slots, here's how it works. You see the whole machine first. It has a list of what configurations of symbols will pay back what amount. You put in your money and pull the lever. The symbols spin by: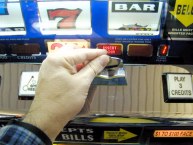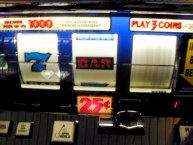 The pay out comes out the bottom (usually nothing). When it does come out, it makes a wonderful sound on the sounding board metal bottom of the container (sounds like more money than it is -- and when others win it sounds like others are winning all around you).





I actually bet 75 cents this trip, and made back 75 cents. (I lost 50 cents more taking these pictures, though, but that was work, not gambling.) I figure that the quarter slots cost $20-40 and hour to play -- if you play until you're out of money, with the ups and downs of wins and losses, it takes a while and you have to view it as renting time on the machine. The nickel slots they used to have were great: $10 an hour or so, like a movie with popcorn but more interactive.

On the plane I finally got to read the Forbes magazine they gave out at Bill Gates' keynote speech (Forbes.com co-sponsored the keynote according to the banners). Out slipped something from one of the other sponsors: a copy of early Windows 2000 to try.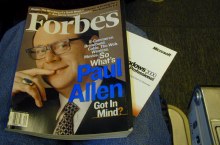 I stopped in Salt Lake City to change planes. The sun was just coming up over the mountains: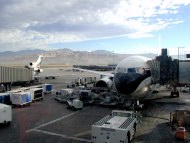 Finally, after a plane switch in Salt Lake City again, it's back in Boston's airport around sunset: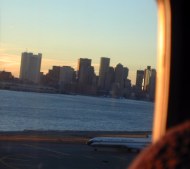 All done! That's it for my trip to Comdex.

If you haven't seen my whole Fall Comdex 99 Journal, you can start from the Home Page. If you have, don't forget to check out my web site.

I hope you enjoyed this journal of my trip through Comdex. For a look at what was actually demonstrated on the show floor, you'll need to look at the many computer publications that chronicle that. Here I tried to give you a personal flavor of one person's view. I'd love to see similar reports done from other viewpoints, such as that of the costume people or a new comer. If you've created one like that, let me know. (If you need a tool to create it easily for the web like I did, check out Trellix Web -- it's free as described on the Trellix web site.)

If you enjoyed this, don't forget to check my log periodically to see other web photo journals that I make. If you want to make one yourself, check out Trellix Web and see my Web Photo Journals web site where I describe my philosophy of web photo journals and give tips and techniques, show you samples, etc.