The trip started early Sunday morning, November 14, 1999. The first leg of the flight was at 7:05 am, so here's what I saw down in the kitchen:





The cab was waiting at 5:50, and off to the airport (and to watch the pre-dawn):






At last fall's Comdex I noticed that there were more flat-panel LCD displays than CRT displays on all the computers. I wondered how long it would take to have the rest of the world reflect that. Well, surprise! The check-in agent had a new unit that was LCD flat-panel which she liked a lot (the keyboards also had a stalk pointing device):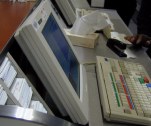 The first leg of the flight was to Salt Lake City. I took this picture after we landed to show that the Stowaway indeed fits on the tray table, but I didn't use it. I spent most of the time sleeping and some making the template for this Comdex web site, as well as working on an essay on Broadband that I should put up in a few days.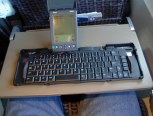 Here we are landing a little after 12 noon in Las Vegas (3 PM Boston time). Las Vegas is in the middle of a very pretty desert. This is the edge of town: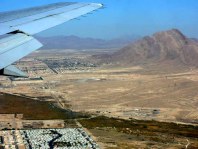 As you've probably heard, as soon as you get off the plane there are slot machines for gambling. Since you normally can't take pictures in a casino, I figured I'd get a picture here for you: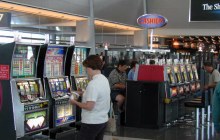 This is a slot machine. The cups on the side are for holding your winnings (or what you are about to put in):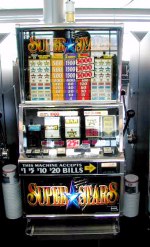 I went through the baggage claim on the way to the taxis. Huge and lights everywhere like the city: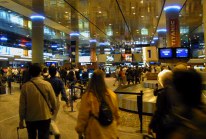 As usual, someone was there handing out stuff for a company. Borland used to do that in the old days. Today there was a guy from Aqcess Technologies (Warning! Their web site is very slow at 28.8) handing out badge holders promoting their new Qbe Personal Computing Tablet, the latest incarnation of a tablet machine (following after Go, etc.). It is a Windows machine with CDROM, camera, and more. (To save the download of their homepage, you can go directly to the specs.)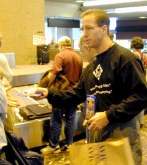 There were several drivers holding the names of their parties. I noticed this one especially for PCWeek:





I didn't have any tickets to get into the Spencer Party that PCWeek holds Monday night, so I figured that if I waited around this guy someone I knew from PCWeek might show up...

As I waited, who should I run into but my friend Larry Magid, columnist for the LA Times and lots more. (See his web site.) He's now also doing LookSmart Radio. We talked for a while. He beamed me his latest business card from his Palm V into my Palm III. I showed him the keyboard thing. (Ooo! Ahhh!)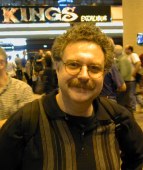 As we talked Larry noticed Bill Howard and Eric Lundquist of Ziff-Davis behind me. We said hi and talked a bit. Then, the big question to Eric: "Do you have any Spencer tickets?" Yes!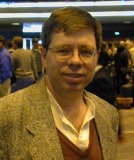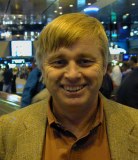 Here's a Spencer ticket: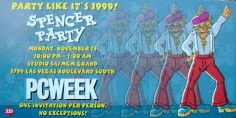 There was no cab line! I'm used to spending 1-2 hours waiting. This picture is just to prove it to those of you who skipped Comdex because of the crowds: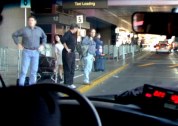 As usual there were signs on the cabs. Here's one for ZDTV (which I'll be on Tuesday on Silicon Spin). The hotel my company put us at is in the background: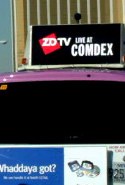 Check-in time. Look at all the flat-panel displays (new hotel I guess):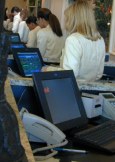 The hotel has a large fish tank in the lobby: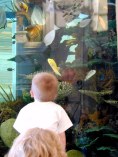 There are also cages with exotic birds stuck in middle of the lobby. I've included the sign that says they are being treated well: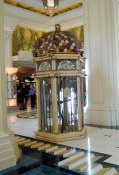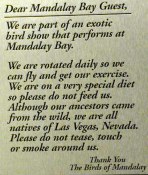 Some women came around to take a couple of the birds out for exercise. They handed out cards with a URL (sign of the times, but there is only one page at the site).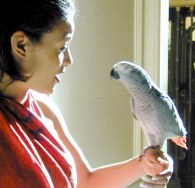 Then I went up to my room and spent an hour or so surfing the web and writing this page.

Next Page >