Celebration of the 20th Anniversary of the IBM PC Announcement



The Dinner

The event included a sit down dinner. Some of us (mainly panelists and their guests) had assigned seats at the middle tables between the two perpendicular halls holding the rest to give us good access to the stage. Here are shots of the two halls (I realize I should have stood up on a chair to give a better view, but then these are all handheld shots with very long exposures which are hard to do while balancing on a cushion):


We were running behind in time and people were too busy talking and not starting to eat, so Brent got up to tell people to start and that there'd be a panel afterwards.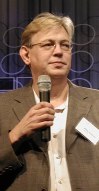 My table included David Bunnell and his wife, Trellix CEO Don Bulens who was my guest, Craig Barrett, Intel CEO, and his wife, and Rod Canion and his wife, and Troy Williams, the founder and CEO of Rod's new company,
Questia
.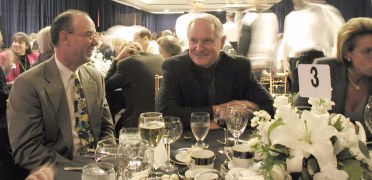 Next to us was a table with Mitch Kapor and Dave Bradley. Bill Gates, from Table 1 next to it, came over to visit: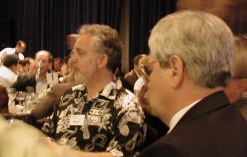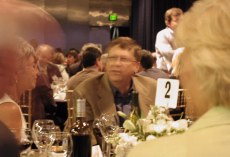 The press had set up a "control center" in one of the foyers. There was also a platform in the main room where the photographers stood. At one point, Bill Gates and Andy Grove came over while the flashes went off over and over again.