Celebration of the 20th Anniversary of the IBM PC Announcement



Rehearsal Time

The event was scheduled for 6 pm. Participants on the panel were asked to arrive early to have a dry run to learn where to sit, what cues were that we would be called up so we could to go to the bathroom before, etc. Outside the signs of a special event were evident. Attendees were expected to arrive, walk through a roped off walkway past TV cameras (mainly for a staged "arrival" by Andy and Bill I hear), and into the Museum. Kids walking by asked us what was happening.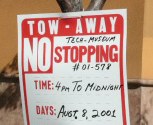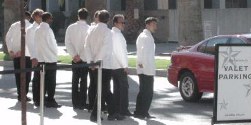 Inside, other panelists were arriving. Here are Mitch Kapor (founder of Lotus), Dave Bradley (author of the original IBM PC BIOS and popularly known as the "creator of Ctrl-Alt-Delete"), and Rod Canion (co-founder of Compaq):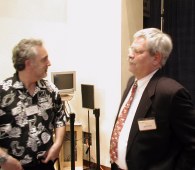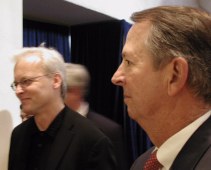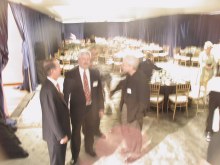 We received instructions from some of the organizers. We sat alphabetically by last name (with moderator Brent Schlender of Fortune Magazine in the middle). Missing were Bill Gates (Microsoft co-founder and author of part of the original IBM PC version of Basic) and David Bunnell (founder of PC Magazine and PC World Magazine). This is what I saw. Dave Bradley sat on my left.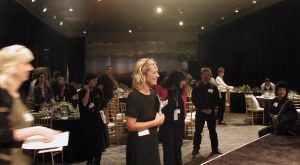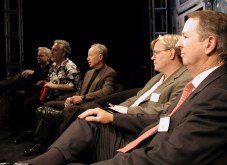 After a few minutes, David Bunnell arrived. He had with him an original copy of the first issue of PC Magazine. Through the night he went around to various people and had them autograph it.