Internet Summit 2001
|
home


Later Tuesday

Lunch was outside. You tried to find a rare seat in the shade. At the end I ran into Earthlink's Gary Berry sitting with Walt Mossberg discussing various consumer devices that connect to the Internet: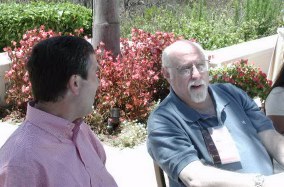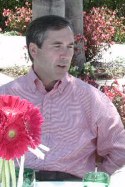 The first speaker after lunch was co-host Bill Gurley. He had spoken about the future of wireless the year before, talking about 2G, 2.5G, and 3G, but neglected 802.11. Since it looks like 802.11 will take the center stage from 3G for many reasons, it was time to explain a lot about that industry. Good stuff. Over 3 million units last year (measured by chipsets), over 8 million this year, and more the year after according to his numbers. Access points have dropped in price to under $200 from over $1000, PC cards to under $99 from over $300, and chipsets to under $30 from over $100. 802.11 is being used not only for laptops on LANs, but also specialized applications like factory and rental car operations. He then spent lots of time talking about "one man ISPs" and "OpenNet communities" where 802.11 is used in larger areas than buildings (often with special antennas). He showed a video from one that covers a small town, where you could even listen to great streaming audio while driving around in a car (you can see the laptop in the middle of the picture, below).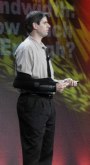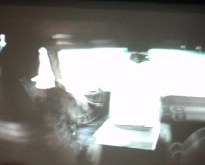 He thinks that 802.11 will relegate 3G to a much smaller opportunity than previously thought. He sees 802.11 (802.11b, 802.11a, and perhaps other variants) as being used for "hotspots" like offices, airports, hotels, etc., with 3G cellular wireless being mainly used to fill in gaps between the hotspots. 802.11 setups are 1/100th the cost of 3G basestations, and work with equipment we'll all have anyway. And then there is the lack of that debt to pay off that wireless carriers spent for spectrum. There are potential problems, but he is optimistic.
Bill followed his talk with a panel of people in the 802.11 industry. He had Larry Ciaccia of chip maker Intersil, Mike Edwards, Microsoft's General Manager of ITG Infrastructure Engineering (Microsoft has it everywhere on their campuses and is finding productivity improvement from it), Bill Rossi of Cisco which supplies companies like Microsoft with the equipment, and Dave Vucina, CEO of Wayport, which provides 802.11b access in many hotel rooms, airports, and events (including this one).

The next speaker was Michel Mayer, General Manager Pervasive Computing at IBM. He talked about "Autonomic Computing" -- devices that are less than a PC, probably without a keyboard or maybe even a screen, that are connected together through the Internet and other networks. You don't even think about a lot of these things (like the EZ-Pass responders in cars, point of sales devices, HVAC controls, etc.) but they will be a large part of the fabric of the Net that will be part of computing.

After Michel came Stratton Sclavos, President/CEO of Verisign. He presented statistics that showed healthy growth of Internet use and is optimistic about Web services. I didn't get any usable pictures of him, so I'll show two of his slides: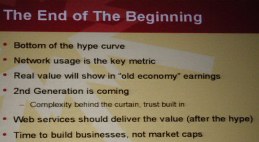 After a break, it was time for a short speech by Amazon CEO Jeff Bezos followed by an interview by Wired special correspondent John Heilemann. Jeff talked about how customers give them feedback, even lobbying him for things by sending gifts. He showed their new personal stores and lists features, and talked about how they A/B test things. He was upbeat as ever, especially because of his just announced $100 million investment and deal with AOL.


Chuck Phillips, Managing Director, Morgan Stanley, opened a panel he moderated by giving us lots of detailed statistics gleaned from monthly surveys of their 225 member CIO panel. No big turn around, yet, as I remember it. (The data is proprietary, so I can't quote it without permission -- if you're interested, contact him.)

The panel included Staples.com CTO Michael Ragunas, Amerada Hess (oil, etc.) VP & CIO Richard Ross, and Fortis Health Senior VP/CIO Roger Jones. It's clear that integrating diverse stuff connected through LANs and the Net is where things are going. No one vendor is going to get it all and replace everything else.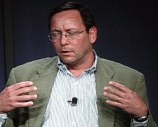 The last speaker of the afternoon was Michael Dell. He was interviewed by Bill Gurley, and then there was Q&A. Lots of talk about Dell's business model of building to order, giving them little inventory and having more days payable than days receivable (a very good thing which their competition does not have). Michael explained how they were going into new areas like storage area networks.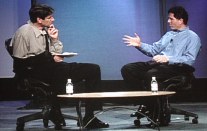 After a break, there were hors d'oeuvres and cocktails, and then a pre-dinner speaker: AOL Time Warner CEO Gerald Levin, interviewed by Mary Meeker. He talked about their 130M+ subscriptions (to AOL, magazines, etc.) and how they take advantage of cross promotion for themselves and others.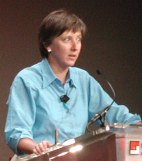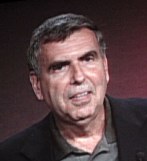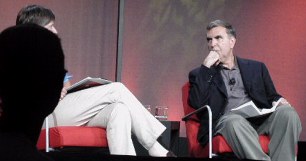 After being on stage, he stayed around for a long time (an hour?) and answered questions from almost anybody who came up on lots of topics. He was very gracious about it. I've seen Microsoft's Steve Ballmer do the same thing at conferences when he doesn't have to get out for another appointment. This is not the image of the super powerful mogul you see in popular portrayals except in sappy movies, but is something you often run into at conferences like this (which is why people pay $4,000+ to go, I guess). It doesn't mean they're not tough competitors, but that they do treat other people with respect in person.
That's it!