Internet Summit 2001
|
home


Tuesday Morning

Here's co-host Bill Gurley at breakfast. He injured himself in an accident and recently had surgery, so his arm was in a sling: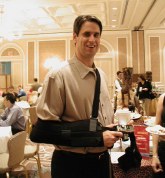 The other co-chair, Mary Meeker, was the leadoff speaker, talking about how usually only a few companies hit it real big -- the "hunt for the ten-bagger". She also talked about lifecycles of industries and how brutal this all can be but that she's hopeful for the future. She was followed by Andor Capital Management's Chairman/CEO Dan Benton for an investor's perspective. He talked about the boom and the bust, and the need for a new killer app, a big one, to get things going. He said that the technology downturn is not cyclical, but rather because much of the older killer app technologies are mature and very big.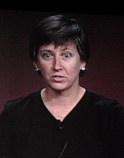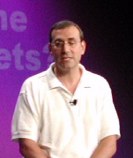 Here is what the room looked like, both overexposed and as it really looked in the dark: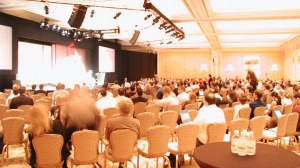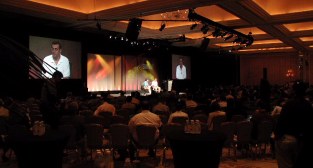 Next was a different type of investor, venture capitalist John Doerr. He talked about what went wrong the last few years, the Fed monetary policy, some of society's needs, and more. (Speakers with slides -- which I sometimes photograph -- make it easier for me to remember what was said -- Q&As like this are hard to recount reliably.)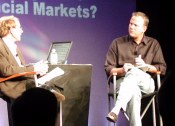 Back to hearing from an industry company leader: This time it was Michael Capellas, Chairman/CEO of Compaq. He sees the hype finally gone, with basic business models back, e-commerce continuing growth, and lots of distributed types of computing.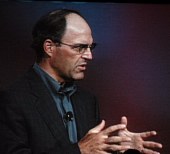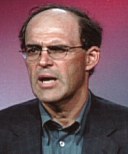 Break time. I ran into Dell CEO Michael Dell. Here he is talking to Megan Smith, President of PlanetOut Partners: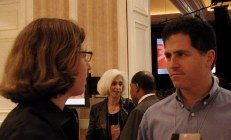 Time to talk about bandwidth. First up was Ravi Suria, managing director of Duquesne Capital. He talked about the important impact of so much debt and overcapitalization in the telecom industry. Lots of accounting-type numbers that were eye opening and explain a lot. He sees telecom industry problems coming not from problems in the general economy but rather from a bust after an unjustified boom that messed up balance sheets. Back to reality. Bye-bye hope of borrow, build, and sell out, since you're not worth buying. "Excess debt is the ultimate anti-takeover poison pill."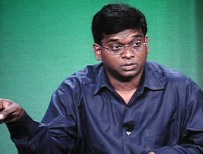 Ravi was followed by Industry Standard editor in chief Jonathan Weber moderating a panel of industry players: Gary Betty, CEO of Earthlink, Patrick Nettles Executive Chairman of Ciena, Juniper Networks Chairman/President/CEO Scott Kriens, and (by phone that kept breaking up) WorldCom Vice Chairman John Sidgmore: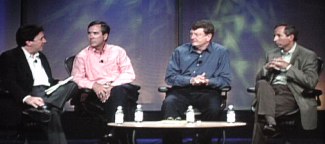 Lunch time.