Washington Award Ceremony
|
home


Morning at the Massachusetts Software and Internet Council

Before leaving for Chicago to receive the award, Bob and I attended the Massachusetts Software and Internet Council's "Annual Meeting". While we have a few major meetings each year, and minor ones a few times a week, this is the one when we elect (and re-elect) trustees, and give out some awards. I was to run the trustee election part ("All in favor say 'Aye!'...Congratulations!"), so I sat up on stage with the speakers. Here's the view: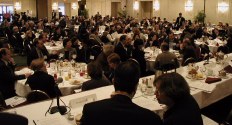 View from the head table

We listened to a speech from Lt. Governor Jane Swift of Massachusetts. With the probable leaving of our Governor to take a job in the Bush administration, Swift should soon be our Acting Governor. She has been the "youngest this" and "first that" frequently in her life. She is famous around the country for being about to become the first sitting governor in the country to be pregnant with twins. She talked about education, something clearly important to her, and how the state is going to deal with the new mandatory high school testing by providing money for mentors, special testing for those that fail, etc. We listened to some of the details of trying to fairly implement the philosophy of statewide testing.
After her speech, she helped in handing out our "Above and Beyond Awards" that we give to educators and volunteers from Massachusetts schools. These awards (which include a $1000 grant) went to people who did things like integrate technology into classrooms, maintain web sites, teach digital photography, etc., in K-12 schools.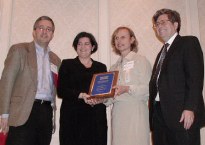 Lt. Governor Swift speaking and helping give an award

I then got up again to give a special achievement award to Milos Konopasek, the father of TK!Solver, and the visionary behind much of the PC engineering math software category. We posed for pictures with people representing Software Arts (TK!Solver), MathSoft (Mathcad), and The MathWorks (MATLAB). Amazingly, TK!Solver (the product I worked with Milos to develop) is still being sold and used (now in a Windows version), outliving VisiCalc by more than 15 years.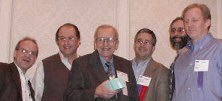 Milos Konopasek and other math software people celebrating his award

The next speaker was
Rosabeth Moss Kanter
, of Harvard Business School. She gave a talk derived from her latest book,
Evolve!: Succeeding in the Digital Culture of Tomorrow
. She talked about the need for personal, face-to-face communication in business, and how products and strategies need to be improvised and constantly refined rather than rigidly created. She talked about IKIWISI: "I know it when I see it" -- not knowing when you start what you will end up with. She ended with a rap video, whose lyrics she wrote and performed. She's a very dynamic speaker.



Rosabeth Moss Kanter and her rap video

The final speaker was Carl Yankowski, CEO of Palm, Inc. A resident of Dover, Massachusetts, he commutes to his job in Santa Clara, California. He came to Palm by way of Reebok, Sony Electronics, and Polaroid. He was in Bob Frankston's year at MIT.
Unfortunately, we couldn't stay to hear his speech, needing to catch the plane to Chicago. Carl told me there are copies of the slides he uses on the
Palm web site
. (It's in the Company > Investor Relations > Presentations section, I think.)

Carl Yankowski, CEO Palm, Inc.

We're about to land in Chicago. Time to stop writing...