Monday, December 6, 1999
Tools of the trade to start a B2B
I have a cousin, Eyal, who is starting a new B2B (Business-to-Business) Internet business in Israel. Previously he was a farmer growing flowers for export in the Arava desert in southern Israel. (Farmer = small businessperson = entrepreneur.) He's been calling asking for advice, so I get to watch this somewhat closely. It's interesting to see the order he commits money (he's setting up the Israeli part of an international B2B that works with flowers).
His first purchases were plane tickets to work on face-to-face relationships with his partners. The next was a laptop PC. He was in the USA two weeks ago. He came up to Boston to visit me and other relatives:

My cousin the farmer/B2B startup
We went shopping together: a portable video projector and a digital camera. To do B2B you have to sign up the "B's" on both sides (the Businesses that sell and the Businesses that buy). To start, that takes face time and demoing. To demo to the people who run a farm, you may have more than one person in the room, hence the need for a projector. You also need to let them "feel" what it's like to be selling on the web, and that needs pictures to show the buyers what the potential sellers are selling, hence the digital camera so you can do it all on the spot with their stuff featured. (He's looking to use Trellix Web to ease that, too, though he's also been learning HTML, Javascript, etc.)
I'm a strong believer in portable projectors.
In a room with more than one person looking, a projector makes it like each person is looking at a 17" monitor rather than watching a laptop at an angle around the typist from afar pretending to see the details of what you're showing. Having used projectors for some time now, I'm amazed at
how good the new ones are
and how inexpensive thanks to the
TI DLP
(Digital Light Processing) chip. ("Thou shalt not covet they cousin's projector."

)
Eyal's already making pitches to dozens of farms. He's still waiting to decide where his office will be. Laptop, projector, camera, partners with a good idea, and a web site. That's all it takes to start.
Happy Chanukah
This week the festival of Chanukah is celebrated by Jews around the world. The tradition is that you should have the candles placed near a window for all to see. Living the Web lifestyle, I'll put them in Windows 98 and a browser window at least once:

Monday is the third day
Friday, December 3, 1999
Making your own web log
I get requests like this one that came in yesterday:
Pray tell, when is your staff (when are you?) going to tell us tech-illit but content-rich would-be webloggers in simple language how to use Trellix to put together a log like yours?
Well, I've been working on it. I describe my first attempt at helping others make their own journal with Trellix Web on my
"
Build your own log
"
page.

You
Why would you want an on-line journal if you feel you have nothing to say to strangers? Well, your audience needn't be "the whole world". You can make it just for your close friends and relatives. You don't have to update it daily. You can have a weekly report or a monthly or a quarterly one. You can cover the topics that many people put in "Christmas Letters". Rather than say "Well, since I last wrote our house burnt down, was rebuilt, and we're just moving back in" you could let your close ones follow your life much as they would with a friendly telephone call. In today's dispersed world this can keep you better in touch with people you care about. A hidden agenda, of course, is if you do it and they like it maybe you can talk them into doing it, too, so you can feel more like you are part of their lives.
A personal web site you should see
After watching my log here for a few weeks, Don Bulens, Trellix Corporation's president, added a Weekly News section to his
very personal
web site,
Goofster.com
(look at "New Stuff" or "Weekly News"). Don has created over the last year what I think is one of the most wonderful examples of
using the Web
and a series of web sites
to communicate with friends and relatives
as well as
to express oneself
. It started out with the memorial section, but has grown with stories of trips and events and more. His new addition of a
weekly log
really fills it in even more. Take a look. (Don knows no HTML and does all his work with Trellix Web, of course.)

Don Bulens
This is a picture I took of Don during a PR tour last summer. He's dressed to visit major business publications. He looks much more informal on his site (except during parts of his wedding).
Wednesday, December 2, 1999
Covering a dinner speech
I added
how I covered
Howard Anderson's November 30th dinner speech (the next item), including using a MiniDisc recorder, to my
"
Living with the Stowaway Keyboard
"
page.

My setup on the dinner table
Why do I keep trying to write these things up (other than for your entertainment)? Why should Trellix Corporation let me spend the time and buy these great "toys" for me to use (MiniDisc with nice mike, digital cameras, PDA software, etc.)? It's because we believe that web sites will be a major way that we communicate with others and express ourselves in an informal way. I want to learn how regular people can easily and effectively produce great content with the least amount of work, especially using our Trellix Web program. I want to learn the tricks to tell our users so the "new way" will be better and easier than the "old, by hand" way. When I developed VisiCalc, I always felt that doing a quick calculation "on the back of an envelope" or not doing it at all were the real competition. We spend years in school or work learning the ins and outs of how to communicate on paper or speaking in front of a group. I want to learn the "ins and outs" of quickly creating web sites when it's not your main job or your hobby.
Howard Anderson speech
I attended an "intimate dinner reception with
Howard Anderson
" last night. The speech was entitled "
The Future of the Internet
". It was a meeting of Boston's
Combined Jewish Philanthropies'
(CJP) Computer Group Tech 20 that brings together some of Boston's "top Jewish business technology leaders". It was hosted by Dan Caine, one of the original authors of the
Kiplingers' TaxCut
program, now cofounder of
Split-Up.com
. Dan's new company helps people with "...the complex problems faced by people who are getting divorced." Dan also writes a somewhat humorous and business-oriented set of thoughts on the weekly reading from the Torah. (See the
archive of previous writings
to see what they are like or to subscribe and get a new one by email every Friday.) You can tell from his writing what a special person he is.

Dan Caine
Howard Anderson
founded the
Yankee Group
in 1970. He also
co-founded
Battery Ventures
, a national venture capital firm. He's a frequent speaker at industry conferences, very well known, and a delivers a great and funny speech.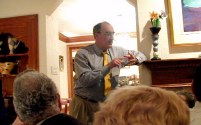 Howard Anderson
I
took notes on my Palm
and recorded the speech, with permission. (See my "
Living with the Stowaway Keyboard
" page for details of that.) Here are
some points he made
and some one-liners:
Howard says there are four types of players: Attackers (new companies taking advantage of the Internet), Defenders (old companies fighting back), Arms Merchants (companies that sell to all sides, like Cisco), and Customers (such as us "Taffies": Technically Advanced Families with cable modems and 3 or more PCs). Best to be an Arms Merchant. There is a "Second mover advantage" when the first mover stumbles.
His main point: Keiretsus (interlocking companies like the Japanese industrials are supposed to be) will rule. He listed some he sees coming. They included Softbank/Yahoo ("The first global keiretsu"), AOL (all by itself), Microsoft ("Yeah, sure"), Paul Allen (separate from Microsoft: "Three years from now someone will write that Paul Allen is significantly brighter than Bill Gates, and maybe richer"), Disney / Infoseek, and others.
He feels the Internet Industry will "...probably be the most important development since the semiconductor...far eclipse the personal computer."
A quote:
"In 1979 Yankee Group did a study for the Postmaster General. The amount of email in the country was 100 million pieces, the amount of First Class mail was 132 billion pieces. So email was six-tenths of one percent. I did that study since I was the entire Yankee Group back then. [He then spoke in a deep voice as if reading his conclusion] 'By the year 2000 email will surpass First Class mail'. The Postmaster General calls me a year ago, 'Mr. Anderson', 'Yeah', 'Your numbers were wrong! We [were] passed last year. How come your numbers are wrong?', 'Because I did them on my Bar-Mitzvah calculator -- what do you think after 19 years?'"
Some one-liners:
With regards to DSL and cable modems: Speed is as addictive as cocaine and almost as expensive...if you have a cable modem in your house, you'll give up your first born before you turn that service off. My kid calls up from San Francisco. "Dad, you've given me up for a modem?" "Yeah, but not any modem..."
Commenting about the many companies trying to do the same thing (like selling pet food): Some of these attackers will succeed...think about this as an analogy: Think about sperm swimming upstream. For all but one of them it's going to be a very bad day.
The old IBM / Rolm merger: This is an alliance that gave twisted pair a whole new meaning.
Answering a question about whether they should stop teaching Finance at Harvard Business School he talked about how to figure out the "value" in the new companies:
"The metrics that we used are wrong. We hold on to our metrics ten years after they are valid. We talk about MIPS as if it mattered. Right? But we like that metric, we're going to use it until the cows come home... Some new metrics are 'Even a free subscriber is worth $3000 to me. So if I can get myself a million subscribers and I multiply...' The finance guys have to find the new metrics since the ones they are using were built in cost-accounting days."
If you can hear Howard speak it's well worth it.