Well, the wedding pictures are finally online! Thanks to Zanna, Dave, Mum, Dad, Harry & Craig who sent me additional photographs on disk and by email - especially those of Eastwell Manor.
Please note that in order to present large, high-quality pictures, some of these pages may take a few minutes to download completely. The first few pictures will be visible quickly, but please have patience with the rest!
Once again, Vanessa and I would like to thank all of you for coming and helping to make it the perfect day that it was.
To Mum, Dad & Eddy - thanks for all your help, without which the day would not have been possible. Thanks to Vickie, Shanice, Charlotte and Oliver for sterling work in the bridal party, and to Ben & Nick for being the best best men and not being bastards in the speech (except to Tim Hucker, of course, but that's allowed!). Gail & Tara - cheers for being our witnesses as well as all your help throughout the day, and hearty thanks to Zanna and Maria for excellent readings despite being very nervous indeed.
| | | |
| --- | --- | --- |
| Nick was first to arrive on Thursday afternoon and soon settled down to a beer and a fag. With Kirsty's help, of course. | | Maggie and Eddy. This is either a very funny story or Maggie is easily entertained! |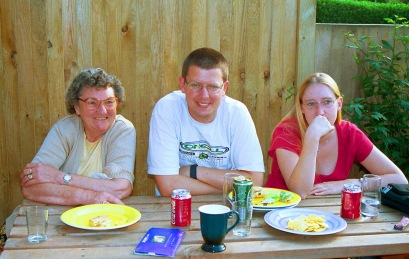 Nan, Steve and Vickie on Thursday afternoon.
| | | |
| --- | --- | --- |
| Alex & Mel looking refreshed and rested before the weekend! | | Alex, Nick & Ben adopt their catalogue pose by reflex. |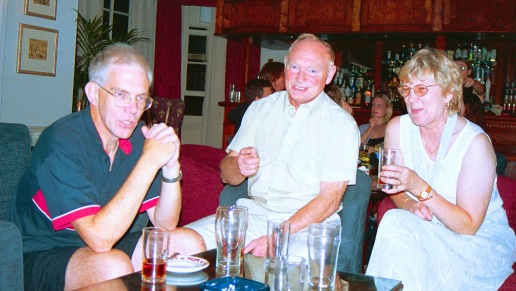 At the Chaucer Hotel bar on Thursday night, the Horton v Greene drinking competition began, with Rob and Eddy
in the hot seats. No great surprise there, then!
| | | |
| --- | --- | --- |
| The Wedding Ceremony at Eastwell Manor- Vanessa arrives at the Maid's Garden at noon, with her father Mr Adrian Greene. | | Dr & Mrs Horton-Szar after the wedding, looking very relieved that everything went so well! |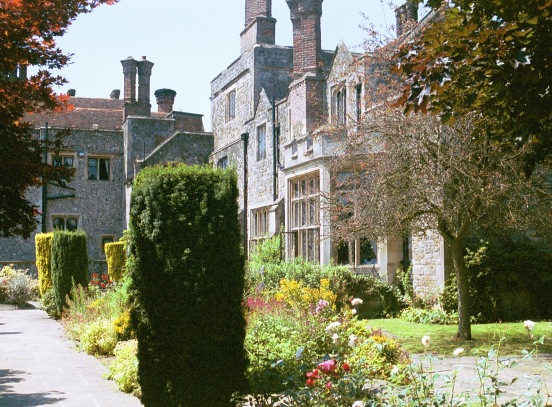 The terrace at Eastwell Manor, showing the path to the Maid's Garden. This is the route that Vanessa and the bridal party
took on arrival for the wedding ceremony. Perfect weather!
| | | |
| --- | --- | --- |
| Miss Gail Greene on the terrace at Eastwell, shortly after the wedding ceremony. | | Miss Tara Greene - same place, same time. |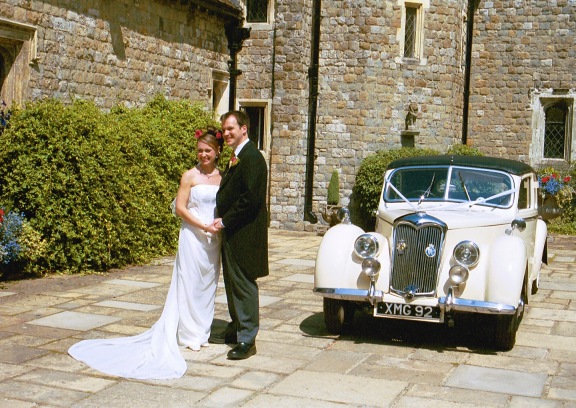 At about half-past one, we were about to leave Eastwell Manor in Eddy's beautiful old Riley, but there was just enough time
for another fifty photographs in the courtyard!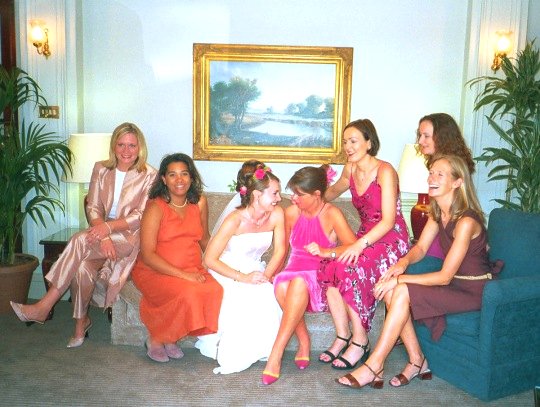 The Wedding Reception at the Chaucer Hotel. The girls - from left to right: Gail Greene, Ruth Holt, Vanessa Horton-Szar,
Zanna Clarke, Camilla Anderson, Tara Greene and Joanna Groombridge.
| | | |
| --- | --- | --- |
| Ruth, Vanessa & Lottie in the Chaucer Hotel bar. Later on, Charlotte had a bit too much gin and was asked to leave. | | Valerie and Eddy relaxing before all that hand-shaking in the receiving line-up. |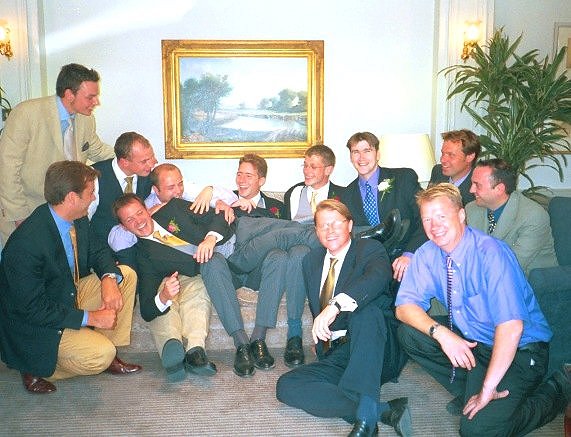 Likewise, the boys - back row from the left: Dave Butler, Nathan Holt, Richard Taylor, Ben Hunter, Nick Sherwin, Alex Marshall, Paul Gyurgyak
and Mat Thomas. Front row: James Groombridge, Dan Horton-Szar (lying down being tickled), Max Tomlinson and Harry Mayes.
| | | |
| --- | --- | --- |
| Jayne and Kirsty pretend not to notice Glenn and Harry arsing about behind them. | | Vanessa & Kathy in the Chaucer bar before the reception dinner. |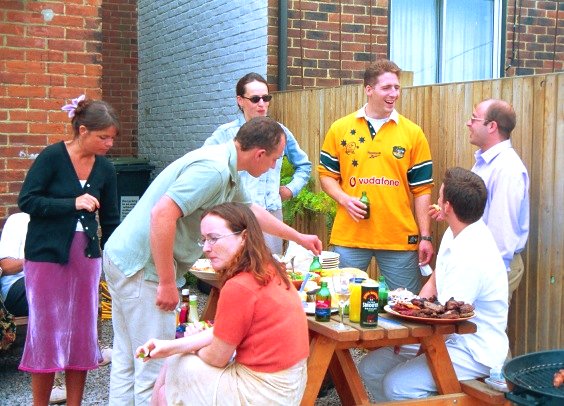 Saturday afternoon - barbeque at 37 St Martins Road... from the left, Zanna, Nathan, Tara, Kirsteen, Ben, Dave and Richie.
| | | |
| --- | --- | --- |
| Mr Richard Taylor relaxes in the sun after a particularly gruelling night with young Kirsty Revell. | | The first day of our marriage... Vanessa shows off the flowers Dan sent her on the morning of the wedding. |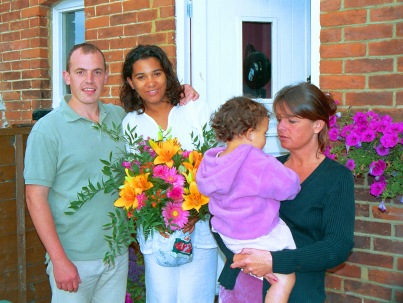 Nathan & Ruth quickly sneak out with Vanessa's flowers (Ruth always was a bit shifty, we
said to ourselves later!) using their daughter as a diversion.
| | | |
| --- | --- | --- |
| On Sunday morning Rich realised he had survived the whole weekend with only a few scars. Please note Kirsty's bedroom in the background! | | Vanessa and Tara quickly washed up the detritus of the night before with happy smiles... |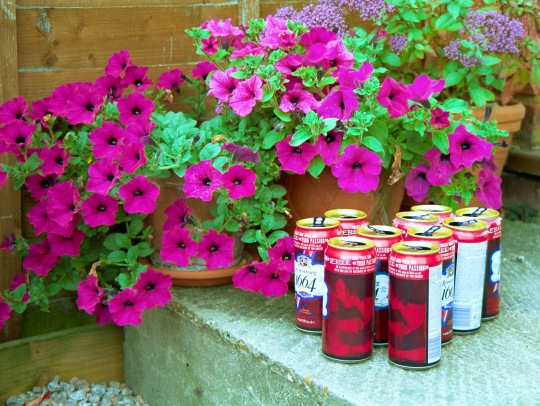 If you have anything to say about these pictures,
please leave a message on my guestbook...