The trip was long but not too hard. It's documented in "The trip to Crested Butte: To the airport" and "The trip to Crested Butte: Plane and car". You never know where content for your web site will come from. I got the "The Big Dig" material with the help (and encouragement) of my taxi driver on the way to the airport.

Here's my initial setup in my hotel room. (As you may have seen on the "The trip to Crested Butte: To the airport" page, I fit everything into my suitcase -- and two carry-ons.) I'm starting just by using still pictures, so no video or backup stuff: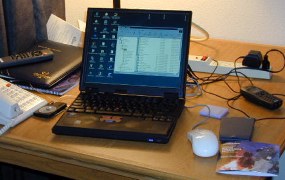 You can see, from left to right, the hotel room phone, the TV remote control above it with the "Guest Services Directory", the little wire holder that has my modem to phone RJ-11 cable (a give-away from another conference), the powerstrip plugged into the lamp's courtesy outlet, my cell phone and charger to act as a second phone line while I'm connected on the modem, SmartMedia holder, Palm Pilot for phone numbers to call, and Festival Schedule of Events so I can name things right. Not shown: the digital camera I'm taking this with.

Suffice it to say that the setup above was all I used. I never used the Zip drive or video capture equipment. I always posted using the dialup modem, usually at 21.6bps (hotels don't get 28.8 or above very well through their PBX's).