Digital Storytelling
Dana Atchley's digital storytelling can teach us about communicating with emotion.
Page "dstory" last modified: 27Sep99
---
There is an art form that is getting popular called Digital Storytelling. We can learn from it things that are useful for our personal albums and journals. There is a conference for people interested in this art called the "Digital Storytelling Festival" that is held in Crested Butte, Colorado (www.dstory.com). The founder and director of the Festival is Dana Atchley. I recently heard Dana speak (the second time I've heard him) and took notes and some pictures which I present here. (It was at the Web99 conference -- www.mfweb.com -- where I also spoke and even got to show off the beginnings of this web site.)

For more information about Digital Storytelling in general see the article that appeared in the San Jose Mercury News Sunday magazine West.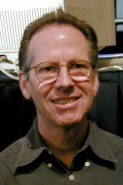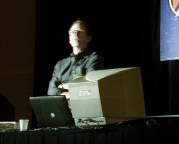 | | |
| --- | --- |
| | Dana Atchley, co-founder of the Center for Digital Storytelling |

Dana is a believer in storytelling aided by computers for images, sounds, and video. A photographer since he was 7 (around 1948, I believe) who still has every photo he has ever taken (and albums of photos from his family that go back to the 1800's), he uses computers to create stories to perform live or through the Internet. He states that "stories are how we let people know where we came from and who we are."

He has a show he performs called "Next Exit". (There is more information at www.nextexit.com.) As he tells it, when he performs, the stage has a projection screen and a place for him. At his place there are some logs and a tree stump. He sits on the stump. Atop the logs, stacked like a campfire, there is a TV screen. When he starts, he "lights" a fire on the TV screen which just burns throughout his presentation.

He uses a custom program he had developed (written in Macromedia Director) that lets him control the pictures and videos as he talks: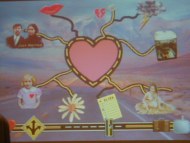 Here are some pictures from one of his stories. I took them sitting in the audience with a handheld digital camera. I did not try to improve the contrast -- I just cropped them:


| | |
| --- | --- |
| | His grandfather first got a movie camera many years ago. Here you see his digital storytelling screen with an old movie showing an ancient automobile framed by a drive-in movie screen above the control panel. The drive-in screen evokes in him, he says, memories of great times in his youth on dates. (As he says, stories let people know who you are.) |
| | |
| --- | --- |
| | His grandfather made his family parade out of the house every year, line up, and turn around in unison (as he shows, they never quite got the hang of all turning the same way...). He showed his father growing up this way, turning, turning, turning: |
| | |
| --- | --- |
| | Black and white gives way to color. Then, his mother shows up in the films: |
| | |
| --- | --- |
| | At his point he stops the video of the movies. You can see his father kissing his mother. He recounts how his parents divorced when he was young, and rarely showed affection towards each other, as he recalled. This one section of just a few movie frames is all he has to show him how much they cared for each other at one point. |
| | |
| --- | --- |
| | Finally, they turn around and he's in the picture. First in his mother's arms, and then when they finish turning, in his father's: |


That's one of his many stories. You can see it, and hear him speaking, on his web site. This one is called "Home Movies", and is in Quicktime at www.nextexit.com/drivein/drivein_0.html. Some are quite powerful, and the medium of controlled digital images, sound, and video, is extremely effective.

In addition to running the Digital Storytelling Festival and performing, he also consults with companies to help them improve their presentations through storytelling, and even communicating their brands better through emotion and stories. He points out how most companies have archives of pictures and artifacts, and stories about their brands, their founding, etc., that should be communicated to new employees and customers. He says he wants to move from presentations like PowerPoint to "emotionally rich material."

When he teaches storytelling, he asks people to look for the event where "if this event hadn't happened, I/we wouldn't be here today." With brands, he asks "what does this brand mean to you" to find stuff to write stories about. He has done a lot of work for the Coca-Cola Company and showed that. Their new museum in Las Vegas has a theater where they tell moving stories about Coke.

Here's something from an article in Fast Company magazine, I think: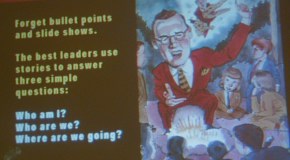 What can we learn from this?

One thing you really learn from his stories is how simple images, a bit of original sound or film, or pictures of artifacts can really help a story. You don't need a visual recreation of the entire event. For example, for a story about his grandmother, he just shows a picture of the ship she was shipwrecked on, a picture of her, and a photo of a tied bundle of her letters while he reads some of what she wrote. The images are enough to set the scene and tie it to a real base:


| | |
| --- | --- |
| | Originals, not photos like the others, courtesy of Dana Atchley. |
| | |
| --- | --- |
| | Used with permission. |

When you take pictures for your stories, don't forget to take pictures of various artifacts that can stand in for pictures you don't have.

We learn that old pictures of events or people can have great emotional impact in the present. The fact it exists at all ties us to the past.

Posting this page eventually led to me attending the 1999 Digital Storytelling Festival. You can read my Journal of attending the Festival.