Monday Morning
Chris Shipley started the conference. Over 500 attendees. Here she is on stage and on the big screen, and thanking the sponsors: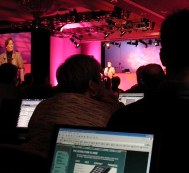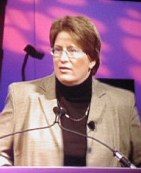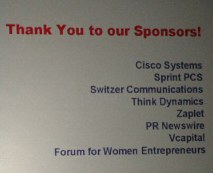 The first presenter was Linden Lab, with their shared, streamed, 3D environment. It was very smooth, very quick, and with dynamic modification by the people going through the world, such as the last picture here where the viewer is changing the music played in the disco while others dance: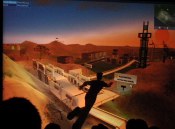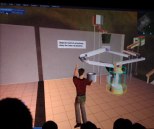 Next was Boingo and Sky Dayton showing 802.11b cards: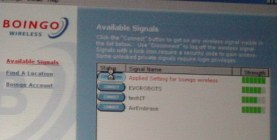 Next was Embrace Networks showing their device-to-wireless stuff:

There is a part of the conference called the "Hot Seat" where a company has 60 seconds to tell you about itself and why you should visit their booth later. Which goes on when is random with this screen showing all the names real quickly and then stopping on one: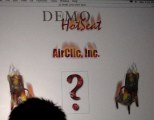 Zinio showed real magazines with a cool reader -- downloaded at about 10MB each: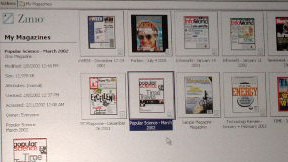 Microsoft showed some use of web services with their MSN Money Professional, which ties financial advisors to stuff and people: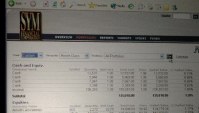 Since you can't use the computers or much for the Hot Seat 60 seconds, this company had people hold up a large printout and cue cards: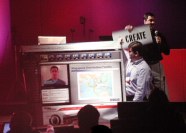 Octave Communications showed Improv (where have I heard that name before?), a voice driven voice conferencing system. Really cool.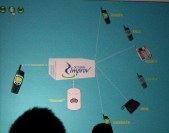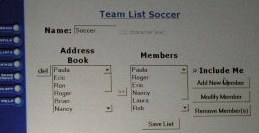 Salesforce.com showed how they've improved their system: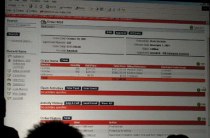 Expressiv showed their Presto development system for simplifying the connecting of web services: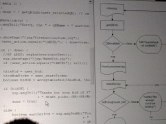 Sprint Labs showed their voice driven interface (images driven by LifeFX):
Finally, Bill Gross showed off Evolutions Robotics software platform and breadboard robot ($995 plus your laptop). It was really, really cool. This is a $995 tax on all those people who watch RobotWars, etc. Definitely check it out on their web site (
www.evolution.com
). Here's Bill with the robot, and the laptop screen showing what the robot sees, including the edge detection, etc. It has a full programming and a simple click and drag programming interface.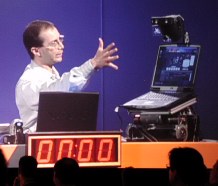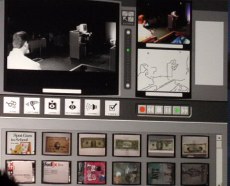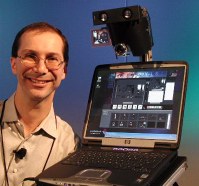 That's it for the first morning. Off to the pavilion.