BloggerCon 2003 Photos

Dan Bricklin's pictures from the
BloggerCon 2003
gathering, October 4-5, 2003, at Harvard University, Cambridge, MA.
To read what was said (to go along with the pictures), see what
Heath Row posted
starting Saturday morning. I have some pictures of Heath at the end of the last day.
The first day of the conference. It started Saturday at 8am.

Showing the audience with larger pictures late Saturday morning.

Lunch and speaker pictures, the party and dinner after.

Some pictures from a few of Sunday's many sessions.

Last Updated: 5 October 2003 2:09 PM EDT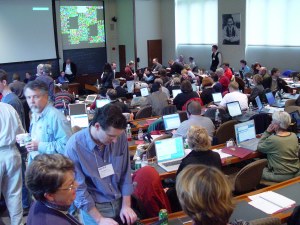 Technical information (people have been asking): The pictures were all taken with a Sony DSC-F717 digital camera, no flash, 1280x960 pixels, most at 800 ASA equivalent. I've
written
on my weblog why I use this camera (great in low light with a long lens). It did not disappoint me here.
(c) Copyright 2003 Daniel S. Bricklin
All Rights Reserved.